Monday, March 10, 2014
Friday, March 7, 2014
Ingallina's Box Lunch Portland offers St Patrick's Day Cookie Box with Mint Chocolate Chip and Frosted Shamrock Shortbread cookies; the perfect gift to send to out-of-area  friends, family and business associates. Call at (503) 233-9400 to order today.
Friday, February 21, 2014
Thursday, February 20, 2014
Classic Cobb Salad| Salad Box Lunch
See on Scoop.it - Box lunch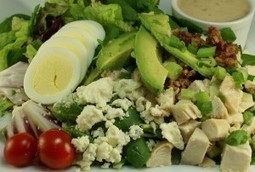 Ingallina's Box Lunch Seattle is delivers tasty and healthy Classic Cobb salad with chicken breast, avocado, bleu cheese crumbles, crisp bacon, tomato, scallions and hard-boiled egg on mixed greens; Our Salad Box lunch includes with fresh baked roll with butter, fresh cut fruit cup, a delicious cookie, bottled water, utensils and napkin.
See on ingallina.net
Wednesday, February 12, 2014
Saturday, February 8, 2014
Friday, February 7, 2014
Thursday, February 6, 2014
Valentine's Day has become a popular holiday for creating and strengthening those relationships. Ingallina's Box Lunch is known for having large free delivery areas in the Seattle, Portland, and Los Angeles areas as well as delicious gourmet food and wonderful customer service. This Valentine's Day, be sure to share with all of the people that can easily be taken for granted, but ensure the efficient running of your company.
Tuesday, January 28, 2014
The holidays may be over for most, but for Ingallina's Box Lunch, the season continues. Valentine's Day is only a month away, and there is much prepping to do. Valentine's Day was once thought of as a holiday for lovers, but it has its place in the corporate world as well.