Tuesday, April 22, 2014
Spring gives us many opportunities to secure our business relationships with, Easter, Admin's Day, and many more! Call (503) 233-9400 for order today and get FREE Same Day Delivery.
Wednesday, April 16, 2014
Ingallina's box lunch offers spring season special cookie box including spring shortbread flower cookies and fruit poppy seed cookies. Call on (213) 413-9400 and book your order today.
Saturday, April 12, 2014
Ingallina's Box Lunch Seattle offering Fresh White Bean & Tuna Kale Salad mixed with shredded carrots and marinated in a lemon zest dressing. Topped with tuna, great northern white beans, red onion, black olives and tomatoes. Served with a fresh lemon zest dressing.


Thursday, April 10, 2014
Ingallina's Box Lunch offering monthly special Salad, Sandwich and Combo Party Platter with delicious taste and affordable rates!!!
Friday, March 21, 2014
Tuesday, March 18, 2014
Box Lunch and Food Delivery Los Angeles
Ingallina's Box Lunch specialize in providing Lunch Catering, breakfast catering in Los Angeles including Sandwich Catering and Party Platters, boxed lunch and more with Fresh, Value, Variety, Delicious and Easy to Order and Get same day Food delivery in Los Angeles Metro Area.
Monday, March 10, 2014
Friday, March 7, 2014
Ingallina's Box Lunch Portland offers St Patrick's Day Cookie Box with Mint Chocolate Chip and Frosted Shamrock Shortbread cookies; the perfect gift to send to out-of-area  friends, family and business associates. Call at (503) 233-9400 to order today.
Friday, February 21, 2014
Thursday, February 20, 2014
Classic Cobb Salad| Salad Box Lunch
See on Scoop.it - Box lunch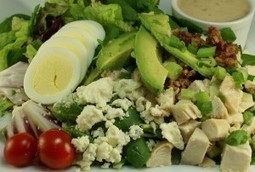 Ingallina's Box Lunch Seattle is delivers tasty and healthy Classic Cobb salad with chicken breast, avocado, bleu cheese crumbles, crisp bacon, tomato, scallions and hard-boiled egg on mixed greens; Our Salad Box lunch includes with fresh baked roll with butter, fresh cut fruit cup, a delicious cookie, bottled water, utensils and napkin.
See on ingallina.net